A month or two back I acquired a resin model kit from
Kallamity.com
. The site, and the models/art found therein, are the work of Luca Zampriolo from Italy. I would encourage anyone interested in mecha or any kind of mechanical art to check out his website. In particular there are picture galleries of some of his work being designed as well as painted. If you pay attention to the painting in progress galleries, there are non verbal hints and tips to be ferreted out. He has quite an interesting style that I've become quite keen on.
The kit I purchased was the BRIEGEL with optional 'Walrus Units'. The Walrus Units are simply big guns that can be used to replace the arms, though I have other ideas I might try using them for! This kit is billed as a 1/35 scale model and features a cockpit that can be modeled to open and close upon completion. This scale lines up reasonably well with my Warhammer 40k addiction so the completed model may at least make for interesting scenery or a mysterious objective when finished. On to the unboxing...
The kit arrived reasonably quickly from Italy, less than a week in shipping, and in great condition. The box was packed tight, but it was an efficient kind of tight, not overcrowded. Little things like the picture on the box and the stamp on the end proclaiming the print number of this particular kit add to the professionalism Luca shows with this kit.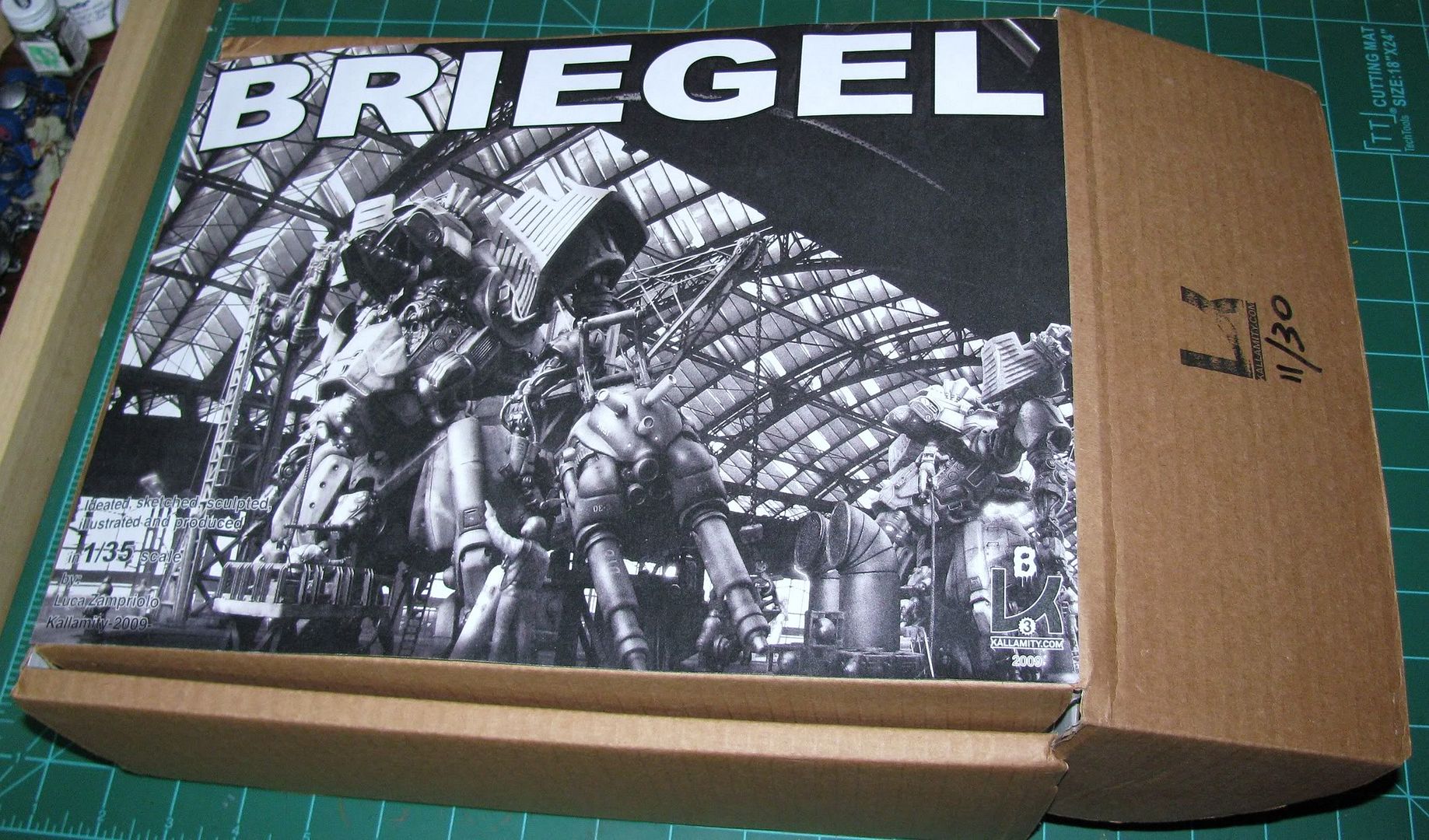 Inside the box the parts are laid out in individual bags with labels as to what the parts in that bag will be used to build. Some of these bags also contain smaller bags within to hold smaller parts or parts of a particular sub assembly. This is similar to the way ForgeWorld lays out some of their larger kits but with the addition of a small piece of paper as a label, it comes off as more organized and feels more put together.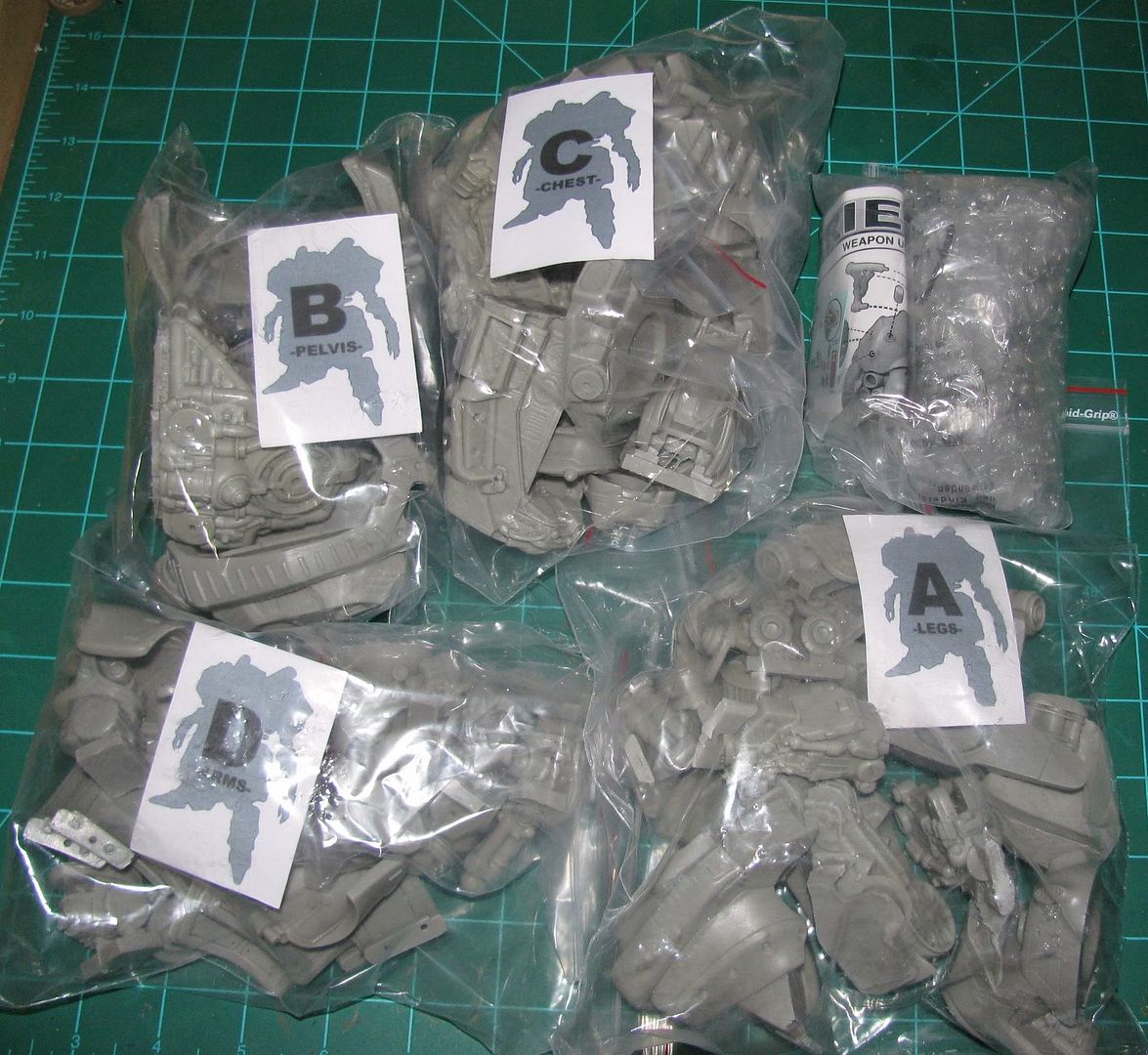 Besides the parts there is a packet of instructions and other goodies. There is the manual proper, a small sheet of decals, a snazzy and unique business card, a custom postcard with the numbered and signed edition info on it, a small card of information and products, and three pins of the sort you can pin to a shirt or hat. I know it's silly, but it's the little things that really make me smile, maybe because they're so unexpected. The pins, the business card... will I ever need them? No, but he went through the trouble to put them in there anyway. The decals are of a high quality including whites, not just something that was done on someones HP printer. I don't recall getting decals with other companies resin kits in the past...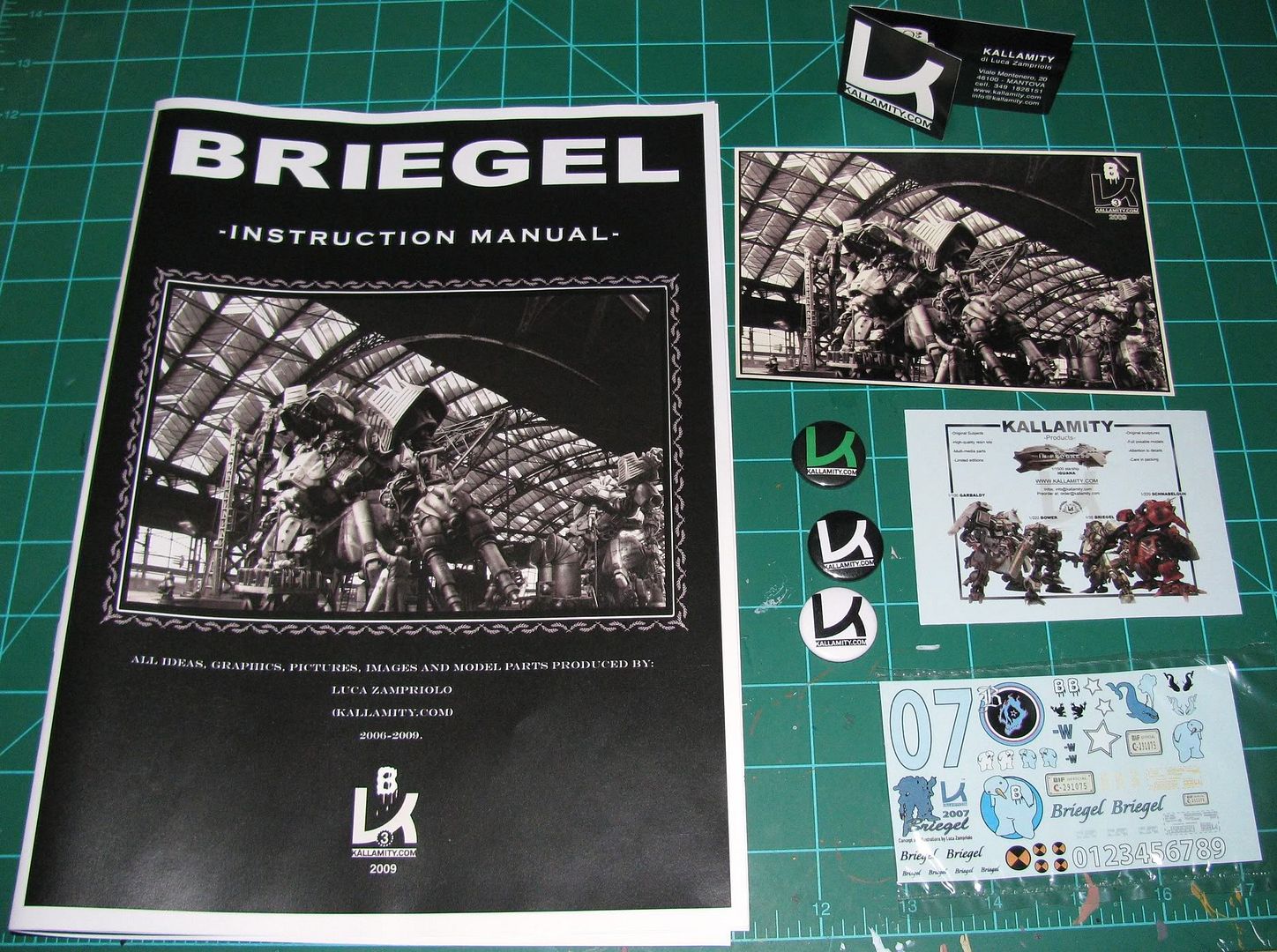 I've looked through the instructions and handled the resin a bit already. The instructions are thorough and easy to read, despite being designed by a person whose first language is not English. On a scale of one to ten I'd put the usability of these instructions at an easy nine. For reference I'd put the Reaver Titan instructions around a four at best. There is even a line drawing of the mecha on the last page which you can photocopy and color to try out color schemes before you begin painting, very thoughtful. On to resin quality. The overall quality is good, but there are some parts that have quite a few pinholes in them. These are easy enough to fill but are, so far, the only real complaint I have with the kit. I will say there are no warped or miscast parts to be found though, that's a plus. Another note on this kit; the kit is positionable. The arms and legs have hinge points which require brass rod to be used in the hinge. While the instructions are very clear on what size rod and what length go where, the rod material is not supplied. It just seems like it would be that much better if the kit had the rods included and it wouldn't cost that much extra to add them.
Overall I'm pleased with the kit and excited to start building it. Unlike the Reaver Titan project, this will not be a straight through all in one go project. I will take breaks and work on other things as needed to not go ape-shit crazy like I nearly did working on the Reaver. So, look for updates in the future. Cleaning and assembly could start very soon!