Two posts in one week! You lucky readers!
First off, I'm looking for a date. Don't worry, my wife knows. I have seats for
Inner Geek plus one
reserved for the theatrical showing of the Ultramarines Movie on Saturday February 26
th
in Denton, TX @ 11:00am. If anyone in the greater North Texas area would like to go, I'm only using one of my two seats. Email me, there is email info in the left sidebar. On a side note, the movie is at a studio movie grill, so if it's as bad as the folks on the interwebz say, we can drink beer till it doesn't matter. (beer is assumed to be available and will not be provided by The Inner Geek)
Nextly, I'd like to start off a sentence with a made up word. Done.
If you read my
previous post
and the ensuing comments, you will have noticed that there was some discussion on naming/designating miniatures. If not, you can go read it now, or just hang tight as we move forward. The gist of it is that I'd like to name my minis to add some personality to each one. I got the idea of marking their bases from my pal across the pond,
Admiral Drax
. I've printed out some homemade decals and given it a go. Here are some troops from the Cadian 5
th
regiment, 3
rd
company, 1
st
platoon, 1
st
squad.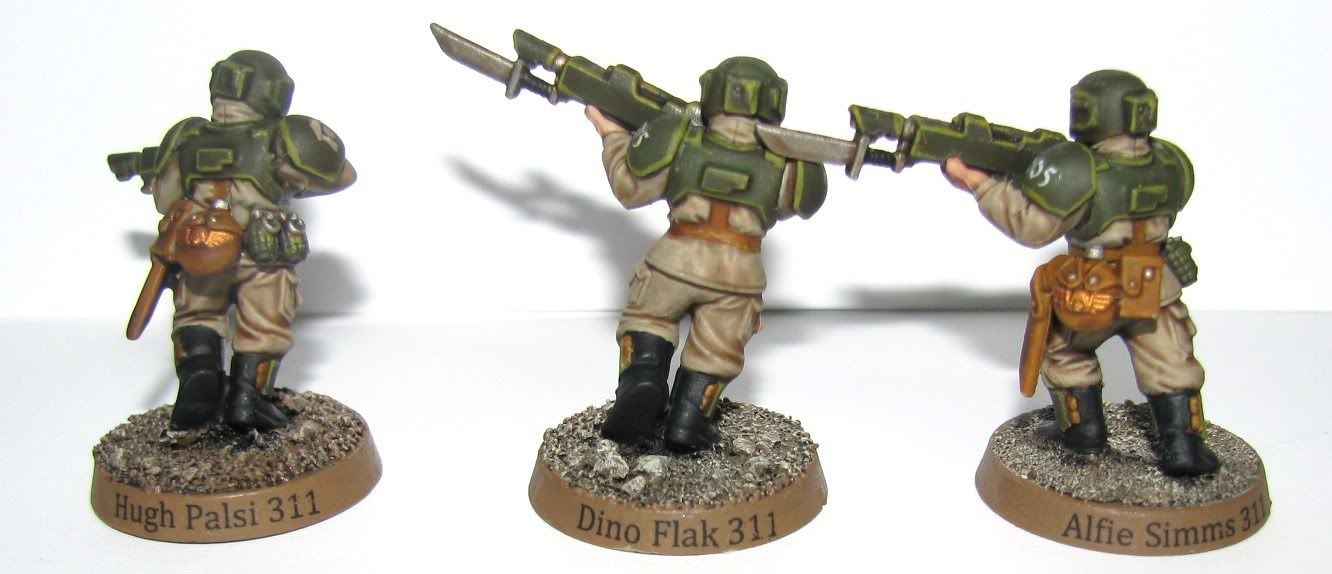 I've learned that Testors decal paper works in a Brother laser printer (black only anyway) and that the decals suck. When trying to remove them from the paper and add to mini the decals curl back and stick to themselves like the most infuriating sort of sticky tape you can imagine. For the record, 8pt font fits about right on a standard base. The curvature of the base is a bit of a pain, but not too bad to if you use a decal solvent like MicroSol.
Anyone interested in being immortalized as a lowly guardsman is welcome to email me their name and I'll be happy to get you inducted. It's that many less random names I have to come up with. I'm trying not to get to the point of resorting to names like 'Jack Handy' and 'Phil MacKrevice'.
So what's coming up on on the blog? Of course now that I'm making some progress on my IG, my attention span is starting to wane. I'm not stopping them, but I am going to keep another project going so I can switch back and fourth in hopes of avoiding burn out on either. So what will it be? Here's a clue...
It should make for some exciting times as I'm really wanting to push the proverbial envelope on dynamic posing.
Thanks for stopping by. As always comments, critiques, and giggling are all welcome in the comments. Oh, and I'm serious about that Ultramarines Movie. If anyone in the North Texas area wants to go, email me. All the reservations are filled so I intend to get there early to get my seat(s).